Eric Cantona's entrance into arthouse
An article in the Observer  highlighted how ex Man United footballer Eric Cantona has come a long way as a striker for the world-famous British football team. He's a "renaissance man, reinventing a new career every few years", wrote Kim Willsher from Paris, where she was conversing with the footballer-turned-actor-turned-filmmaker.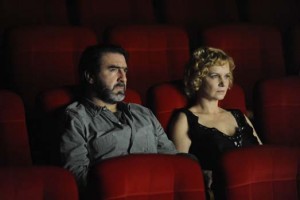 "Eric Cantona had no problem dropping his trousers for his latest film in which arthouse meets soft porn, revealing an unfeasibly large appendage" the article opened with. Apparently Cantona also said to the Observer "I warn you, it's in sleep mode".
The role the article refers to is from Peccadillo's own sexy French arthouse sensation You and The Night (Les recontres d'apres minuit) which has been named one of the top ten films of  2013 by the influential film journal Cahiers du Cinema. 
The Observer recalled; "Cantona's British fans will remember his famous flights of fantasy. At a press conference in 1995 after he was convicted of assaulting a Crystal Palace fan with a kung-fu kick, Cantona was asked why he had reacted to the screams of abuse. He replied: "When the seagulls follow the trawler, it's because they think sardines will be thrown into the sea". He then got up and walked out, leaving journalists scratching their heads."
From this recollection, it's evident that Eric's enigmatic nature is appeased by his new film. He described You and The Night as "a mix of dream and reality and a suspension of disbelief..I feel a lot happier in the world of imagination".
The article also revealed Cantona's passion for researching other peoples history, and his penchant for documentary films. Lately he has been making documentaries with his brother Jean-Marie in which he explores a country's history through football, which for him is the perfect way to make history appeal to wide audiences. The show covered Manchester four years ago, and soon he is off to Rio.
Eric Cantona in a movie role isn't totally surprising. He played the French ambassador to the Elizabethan court in the 1998 film Elizabeth and himself in the Ken Loach film Looking for Eric in 2009. However, his role as "The Stallion" in this avant-garde work is notably more risque, as he plays a well-endowed partaker in an orgy arranged by a young couple (Kate Moran and Niels Schneider) and their transvestite maid (Nicolas Maury).
Their guests will be The Slut (Julie Bremond), The Star (Alain Rabien Delon) and The Teen (Fanienne Babe). It's clear by the names alone that this film doesn't pretend to adhere to realism, preferring to indulge in a fantasy based, bizarre blur. Rather like its characters, it enjoys experimentation. The sexually driven journey is also set to an atmospheric electro soundtrack by M83.
"My time in Britain was an extraordinary period in my life but it is the past and there are so many more interesting things to do and discover", Cantona had said. It appears that audiences will be soon be discovering new things when witnessing You and The Night, too.
You can experience the film, which Cantona deems to be "magnifique", come autumn.