Words by Tom Abell, Peccadillo Pictures Director
The one thing that is certain with working at Peccadillo Pictures is that you never really know what's going to happen from one week to the next. My schedule can be planned very nicely and then something happens that kicks everything that's been planned into the next week – or beyond.
On Tuesday morning Ashley Joiner, the director of our film ARE YOU PROUD? called me to say that the FX network in the USA (owned by Disney) had apparently plagiarised the artwork that we had created for his film to promote their new TV documentary series PRIDE. I was somewhat stunned, then I found that Amelia from our social media department had already picked up on the outraged tweets that were being shared on Twitter about the design of those two posters.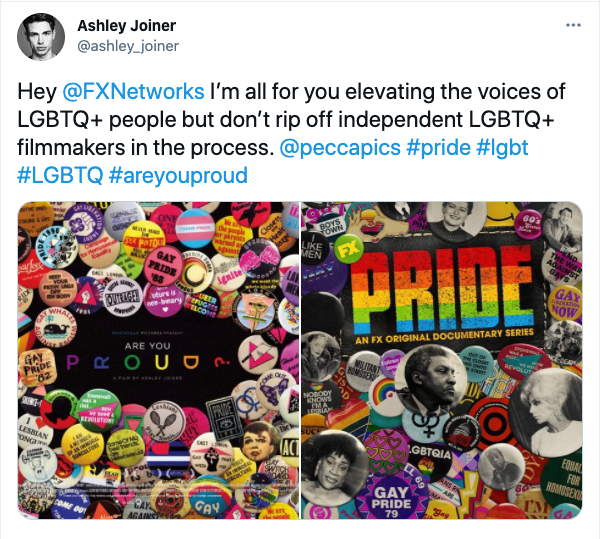 When I eventually saw the FX poster I was astonished at the similarity. Their documentary series PRIDE appears to cover the very same subject as Ashley's film ARE YOU PROUD? but from an American perspective. Apparently, the same theme (obviously I haven't seen the doc yet), with American subjects rather than British ones. But the poster, they seem to have copied what we had done with the design and layout right down to using a badge with their logo to mimic what we had done with the Peccadillo logo in our original design.
Posters creation like this is a collaborative process and it takes time, thought and imagination to produce something as strong and iconic as the key art for ARE YOU PROUD?
Our designer for the project was Kit Mason, over the years he has produced some very fine posters for our films. My original brief to him was to use protest leaflets and news headlines as a kind of collage to reflect the themes of the film. He pulled together an interesting number of items, but within them were a set of protest badges. Some of which I even remembered owning way back in the last century – in fact they are probably sitting in a box in our storage.
But those few badges were the spark of the idea for the poster, we knew that the Bishopsgate Institute had a collection of LGBTQ+ protest badges as did Gays the World Bookshop so I called both and asked if we could come and photograph their collections and have permission to use them for the poster. I vividly remember the trip to Gays the Word as it was pouring with rain, torrential rain. Kit and I walked over from the Peccadillo office in Farringdon and met Ashley along the way, several of the customers inside the bookshop were as wet as we were. But I was so pleased to see the shop busy and full, there were a lot of young people there looking though queer literature showing just how important and relevant a national treasure like Gays The Word is.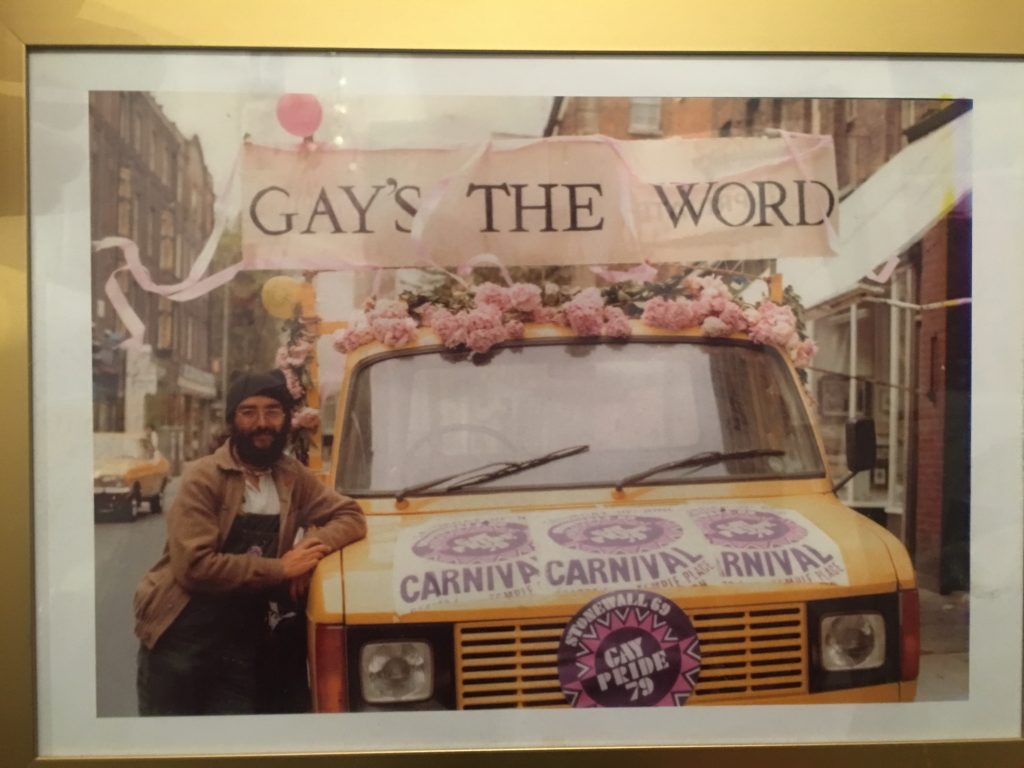 Kit then produced the initial concepts using just a few badges copied several times in order to create the layout, UK "quad" cinema posters are big. Once the layout was approved, we set about putting the right badges in place. Both Ashley and Campbell X helped with the selection to ensure we gave the fullest possible representation that we could to the diversity of the LGBTQ+ struggle over the years and incorporate the wealth of humour portrayed in those little works of art. And I believe that Campbell was right when he said that we had created a truly iconic poster.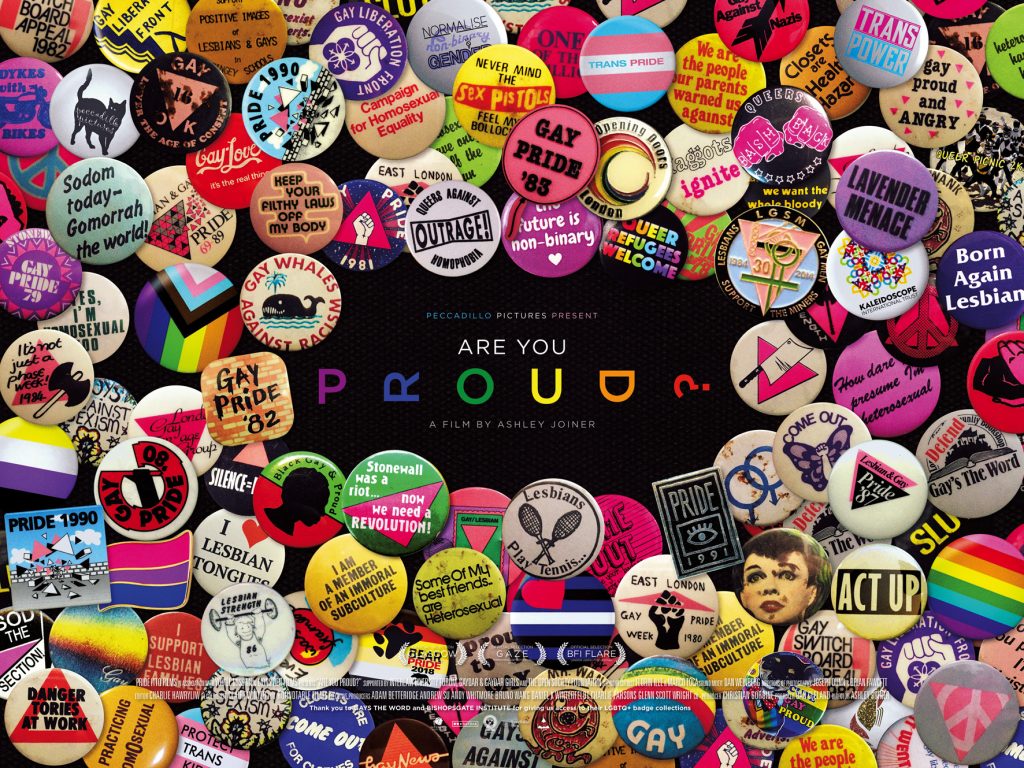 And now FX seems to have just "borrowed" it without asking permission or giving any kind of acknowledgement. If they had just contacted us and said that they loved our original concept and wanted to adapt it to promote the TV series, we would have been flattered and would have come to an arrangement for them to use it. It appears to be a sad example of how corporations feel they can just take the creativity of queer people and do what they want with it without any kind of redress. Corporations also love to take the pink pound / dollar but apparently without thought or consideration for the community itself. This kind of appropriation is one of the themes of a very good film, it's called ARE YOU PROUD?
Watch ARE YOU PROUD? now on PeccadilloPOD Buy DVD: Peccadillo Shop