A Peccadillo Virtual Cinema Release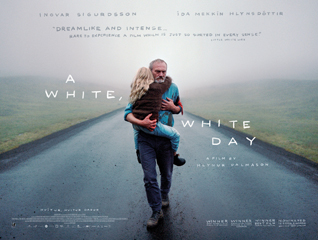 Cinemas have now been closed across the UK for more than 100 days. Recently it was announced that doors may open from July 4th, although some will open their doors this July, there will be limited capacity to maintain social distancing. Many Art House screens in the UK, that regularly show our films, are looking to open around August / September time. Some are even planning for a later reopening.
While some cinemas will be able to play A WHITE, WHITE DAY inside their auditoriums during the next few months, many cannot. Therefore we have teamed up with local Cinemas across the UK to launch a "Virtual Cinema Release" on Friday 3rd July. Cinemas will be opening the film virtually from their websites, on over 30 screens.

You can show support to your local cinema by watching A White White Day embedded on the cinema website or by clicking on the url from the cinema domain to the Vimeo On Demand page. The film rental revenue generated will be shared with the cinema venue, just like when you book a ticket in person.
It is truly wonderful to have cinema venues on board with our 'virtual cinema release' for A WHITE, WHITE DAY.
You can find participating cinemas here:
Chichester Cinema, New Park, Chichester
Shrewsbury Theatre
​