Interview with Leon Lopez
A big thank you to James Walpole of Mr Rumsey's Film Related Musings, a great site dedicated to indie cinema, for letting us share this interview with SOFT LAD director Leon Lopez.
Today we welcome director Leon Lopez to the site in order to talk a little about his new film Soft Lad (released on DVD on the 9th of November). Leon and I talk about what research was involved in the film, about depicitng gay characters on screen and much more. Read on for our interview…
Hello Leon, thanks for taking some time out for this interview today!
It's my pleasure! Thank you for having me.
First things first, could you briefly introduce Soft Lad to our readers?
Soft Lad is a film I wrote about a young man who gets into an awkward situation, having an affair with his sister's husband. It's a coming of age story and deals with two men of different generations battling with demons. We have David (the main character) who's twenty-two and totally aware of his sexuality, and Jules who's slightly older and struggling with the pressures of society to conform.
It's an interesting title, how did the film come to be called that and to what does it refer?
Well soft lad is a Liverpudlian expression that means a stupid boy, silly, as in 'soft in the head'.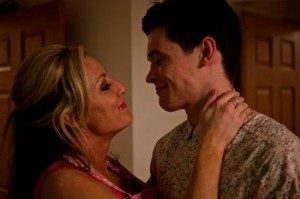 Characters, often gay men, coming to terms with their sexuality is often portrayed as a violent and internal process. Do you think this subject matter makes for particularly rich human drama and did it feel daunting to address such a topic in your first writing and directing venture?
Well I wrote the film initially to talk about issues of HIV awareness but it became a lot bigger than that. It touches on family, love, betrayal and the difference just being born 10 years apart can make to a person. I never really thought or worried about the themes of making the film, the struggle to make it at all with no budget was hard enough. I didn't really worry what people would think of it. I just knew it was a story that needed to be told. This isn't the kind of thing that would have been commissioned for TV or funded privately as it deals with issues that are taboo and not of commercial value.
What levels of research did the film require during the writing and directing process?
It was originally a play. And the story came to me whilst I was working in a show called Elegies for Angels, Punks and Raging Queens which was set in the 80's and talks about people who passed away from Aids. I wanted to tell a story with a modern day take on the issue.
The story is an amalgamation of lots of different stories that have happened to people I know. It literally all just started to flow and before I knew it I had written the whole script
As a director, writer and actor can you tell us in what ways you found the various disciplines inform each other and overlap?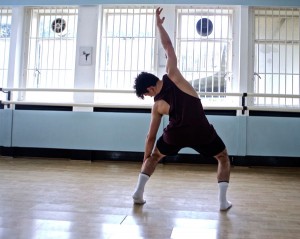 Being an actor definitely influences how I direct. I find that when I work as an actor myself a lot of directors don't know how to communicate, they are almost afraid of actors. Being an actor/director I am aware of insecurities and feel I'm able to let actors just be themselves.
As a writer I like to write roles I myself would like to play, so yeah I think they all link.
Directing and writing appears to have been a recent development for yourself, was it always something that you intended to venture into? And if so what prompted you to pursue it professionally now?
I have always been a writer, before I became a professional actor I was part of the Liverpool everyman young writers programme for three years. I had some of my really early plays put on there as part of their Write Now festivals each year. Once I began singing, I moved to writing songs over plays, but I always continued to write in some form.
Directing is pretty new though. Working in TV, I was always intrigued by the technical aspects. I believe having a knowledge of everything around you really helps your craft, be it directing, acting, camera-operating etc, so I liked to ask questions and this led to more of an interest. It was in 2010 that I decided I wanted to direct. I produced a pilot written by my friend Daran Little and it went well but wasn't how I envisaged it, and I realised to have more control I needed to learn to camera operate and direct in order get the exact look and style I wanted.
I went on to write and film some short films, produced some music videos and worked as DOP on other people's projects for experience. And that's when I felt I was ready to take on my first feature. It took a few years to get the funding together but then I went out with my tiny, almost nonexistent budget of £17,000 and made it!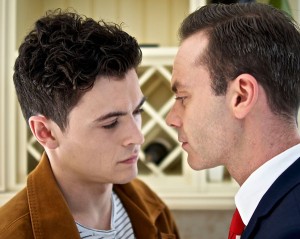 I see you also have a new short coming out (Hiding in the Shadows), what can you tell us about that and when people will be able to see it?
Well I'm hoping it will be a DVD extra on Soft Lad! Peccadillo like it and are considering letting me add it. It's a pretty story of two strangers who meet unexpectedly on a park bench. It deals with aspects of loneliness and hope.
And what are your future plans Leon? What should we be keeping our eyes open for?
I have two films I'm writing with my Craig Stein (who plays Sam in Soft Lad) and I have a TV pilot that I'm developing.
I'm also just about to begin a M.A. in filmmaking. A lot of people have asked me why when I'm already making films, but just like with my acting and performing I am a true believer that we need to keep learning. I want to develop my skills as a filmmaker and am extremely excited!
Credit: James Walpole.
Read the interview from it's original source: Mr Rumsey's Film Related Musings.