Time to Discover 52 TUESDAYS
Last week we were all systems go with our release of Sophie Hyde's "groundbreaking" (Huffington Post) feature film: 52 TUESDAYS. Sophie won Best Director at Sundance Film Festival for the film, as well as the Crystal Bear at the prestigious Berlinale, and so we were a little nervous about meeting her. Especially after a stampede of fantastic reviews galloped in as she arrived, The Guardian writing that it's "told with ingenuity, compassion and an impressive fearlessness."
Thankfully, she was lovely. And amazing. For someone who made such an incredible, touching film she was incredibly grounded, funny and humble. Ollie (our Head of Press), had the job of taking her from Glasgow to Brighton, Cambridge to Cardiff, via Liverpool, Manchester and several London Q&As, and they were joined by the film's lead actress – the beautiful and irresistible Tilda Cobham-Hervey.
Here's Sophie and Ollie looking lovely in maroon (or is that cranberry?), standing by the theatrical poster for the film (and can you spot the POUTFest poster sneaking in at the back?) at Manchester's stunning new HOME cinema.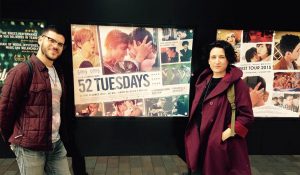 Also check out this snap of Sophie in action, with PHD student Clara Bradbury-Rance offering up a stimulating, funny and insightful Q&A on the film's considerable ambition and achievement.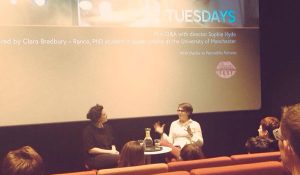 After Tilda (Tilly as we now know her – she's great by the way) it was straight on to Cambridge, where the Arts Picturehouse's shining light – Jack Toye – treated the gang to punting, cider and dinner before another great Q&A (picture below. What's not pictured is the moment Ollie accidentally rubbed pure chilli on his eye, and spent most of the evening with his face in a bowl of milk… Classy.)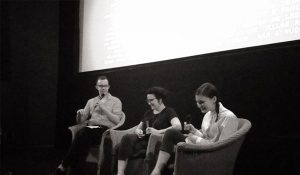 If you missed 52 TUESDAYS last week, catch it tomorrow on the big screen as it plays as part of Picturehouse's DISCOVER TUESDAYS series and our own POUTFest tour. That means it's playing at 20 cinemas up and down the country, on the big screen, where it belongs.
To find a screen near you head to http://poutfest.co.uk/52tuesdays/