High Heels and High Kicks at Picturehouse Central
Picturehouse Central was host last Sunday to the most fabulous afternoon of glitter, sparkle and song. The Soho Premiere of Colin Rothbart's DRESSED AS A GIRL was the final film to play the sparkly new West End venue in the current run of this year's hugely successful POUTfest Tour (which also includes 52 TUESDAYS, A GIRL AT MY DOOR and SOFT LAD).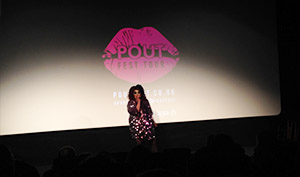 The alternative East End drag phenomenon gets its moment in this fabulous account of six years in the lives of some of its most celebrated performers. There is enough eye make-up and sequins on display to sink a battleship, but at the heart of this surprisingly intimate portrait is the dark side of their lives. The relentless quest for glamorous originality often comes at a personal cost. 
We were welcomed to the gloriousness that is Picturehouse Central Screen 7 where a sold out audience was waiting for what was in store for them. To begin proceedings, the divine Holestar (the tranny with a fanny) gave a performance unlike anything the cinema has seen before. She jumped up on stage, broke the cinema's performance virginity and belted out her hits NYLON WOMAN and WHO MADE YOU THE QUEEN OF FUCKING EVERYTHING? The crowd was screaming with joy, it was like a Take That concert circa 1994. There was laughter (oh the laughter), tears and enough sass to knock Ru Paul off her throne. Holestar even decided at one point (very good at reading the room) that a free lap dance for someone lucky in the first row was required. Brilliant.
Once she finished singing and introduced the film, the audience were captivated by the lives of these brilliant performance artists including Jonny Woo, Holestar, John Sizzle, Scottee, Amber, Pia and Ma Butcher.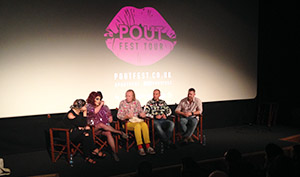 Then the Q&A followed, hosted by the rather dishy Brian Robinson. With elegance and flair, he introduced the DRESSED AS A GIRL team on to the stage and chatted (along with the audience) with them on a whole realm of topics including the making of the film, the current drag scene, what it is like working together and where does drag go from here?
All in all, a riotous event that left everyone covered in glitter and looking for the spotlight.
If you missed the film, don't worry about it – you can catch DRESSED AS A GIRL on the POUTfest Tour here.
On 4th October VUE Cinemas around the UK will be playing DRESSED AS A GIRL alongside a new BOYS ON FILM short film. Find out where you can catch and book here.