Losing our Satellite Virginity to This Lot
We had an incredible night last Sunday (April 2nd) thank you for that. We woke up on Monday aching and tired but it was worth it, you took our satellite virginity and it was amazing.
For those of you who have no idea what I'm talking about, who missed the adverts, interviews, reviews, posts, tweets, trailers and posters (where have you been?) this weekend we broke new ground.; we held not just our first, but the UK's first live cinema event ever for an LGBTQ+ film.
At four o'clock on Sunday our brilliant film WHO'S GONNA LOVE ME NOW? played to audiences in over 40 cinemas across the country, followed by a live Q&A hosted by the wonderful Julian Clary and a performance by the London Gay Men's Chorus. If you haven't heard about it, WHO'S GONNA LOVE ME NOW? is a documentary that is in equal parts heart-wrenching and heart-warming. Read more about it here.
The heartwarming Q&A with director Barak Heymann, producer Ali Bodin Saphir, and the stars of the film Saar and Katri was received brilliantly by the crowd. According to Adam in Brighton there wasn't a dry eye in the house. Watching where Saar and Katri had started, and seeing how far they've come and how close they've grown is truly inspiring, they are very special people.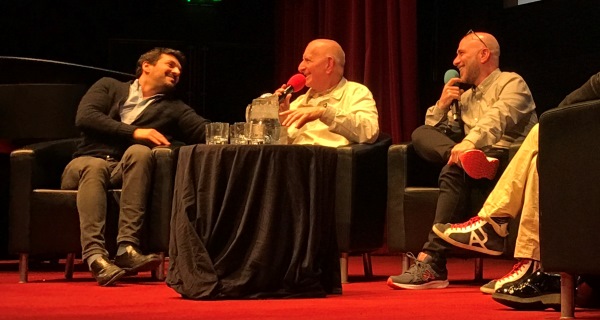 We finished our broadcast with a spectacular performance from the London Gay Men's Chorus, but the show wasn't over yet, oh no! After Saar joined the choir once more for a beautiful rendition of 'Only You', Julian invited all the cinemas to end the show with a sing-a-long to the classic musical number 'I Feel Pretty'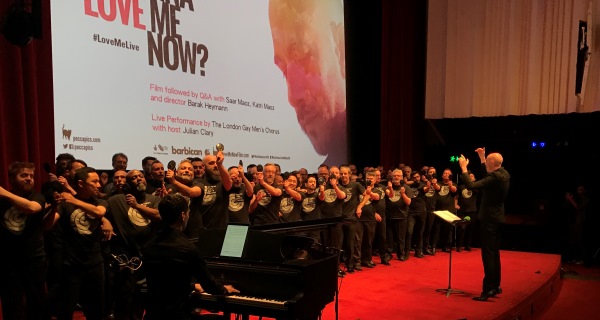 It was a brilliant end to a wonderful night that evidently stayed with people long after. Later that night, producer Ali received a text from a friend informing him that, in the Ladies loos of Showroom Sheffield, she could hear a lady singing a chorus of 'I Feel Pretty!'
If you weren't able to catch our special event of WHO'S GONNA LOVE ME NOW? last weekend, never fear! It opens on general release and VOD tomorrow, you can find your closest screening here.
I wanted to end by saying a BIG thank you to the Barbican, the London Gay Men's Chorus, the Heymann brothers and Saar and Katri. I also wanted to highlight the great work of our local choirs Sing Out Bristol, Reading Phoenix, the GMDC Choir in Clapham, the SWGMC in Cardiff and Northern Proud Voices at Tyneside.