Riot in a donut shop? It must be PRIDE season!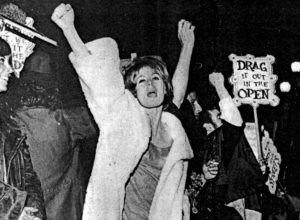 DRAG IT OUT IN THE OPEN!
Most of us know the story of June 27, 1969 – when police raided The Stonewall Inn and New York's gay community rioted in the streets for three long, game-changing nights: events now widely accepted as the birth of the modern Gay Rights Movement.
Ten years before that, however, in the arid, utopic city of Los Angeles the queer community was already fighting worthy, rowdy battles: namely in a late-night eatery called Cooper's Donuts.
Perched between two gay bars – Harold's and the Waldorf – the donut shop sounds like the 1950s LA equivalent of one of the Chicken Cottages in 2015 Soho, London: a late night hang-out for gays, hustlers, queers, lesbians and trans folk.
But it wasn't always as much fun as that sounds: one hot night in May 1959 two cops turned up and started harassing the clientele, checking IDs, randomly arresting some drag queens and younger men. This time, the crowd had had enough, and soon a full blown booze-and-baked-goods fueled riot ensued.
So – to kick off Pride season – have a donut today (and a drink, and maybe a quick cruise in a Krispy Kreme if you fancy it). But don't forget those down-n-outs, queens, queers and prostitutes that were the original voices for the emancipation of the entire LGBTI community today.