Regarding Abandoned Sites and Sexual Discovery
Abandoned sites usually cause curiosity for exploration and adventure. There's a sense of excitement when we are surrounded by uncertainty and a thirst for danger. These sites also allow for a chance to remove oneself from everyday life and have a moment of self-reflection. From a young age, while exploring my sexuality, I can recall finding hidden spaces and out of the way locations with boyfriends in which, for a brief moment, no one could tell me what to do or who to love, where we could escape society and just be together. We construct these sites for satisfying our sexual pleasures and urges, they're made into cruising grounds, runaway spots or sites to release our destructive nature. There's a bridge between desire and death and these will be further explored in the following 5 shorts.
With the release of our DVD of BOYS ON FILM 13: TRICK & TREAT, I look back at some of our memorable shorts from the BOYS ON FILM collections that examine these discarded spaces as sites for escapism and sexual-discovery.
Remission – Dir. Christopher Brown (Boys on Film 13)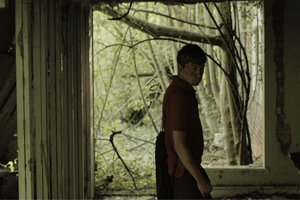 In our latest BOYS ON FILM release, we take a look at two young men and a boy who roam the overgrown English countryside over the space of 2 years, in an attempt to escape an unknown deadly virus. The two men are forced to take a horrific decision after the boy's behavior puts them in increasing danger. These dangers become apparent in the unknown territories these boys are positioned in, the uncertainty of what's to come and the boy's display of unusual behaviors which, eventually, become life threatening. Exploring abandoned houses in search for safety and supplies, there is a moment in the film in which the two young men engage in sex, possibly to relieve frustrations or, perhaps, out of love.
REMISSION is a terrifying short about survival in the unknown and the consequences of trust as a tool for life and death, the last five minutes of the film will no doubt leave you speechless.
Boys Village – Dir. Till Kleinert (Boys on Film X)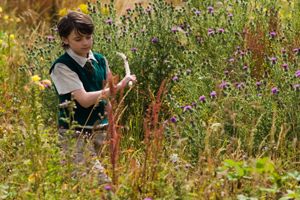 Set in St. Athan Boys Village in South Wales, a holiday camp opened in 1925 as a summer camp for the sons from families in the South Wales coalfield.
The film focuses on a young boy and his imagination – at first we're unsure of why Kevin roams the abandoned camp while talking to his friends made of twigs and rubbish. Is he in the process of exploring? Escaping? He has been eleven years old for quite some time now. Has it been years or decades? Shattered glass and debris lay scattered all over and the countless trap falls and opportunities for injury become a haven for young boys and exploration. After witnessing a group of vandals who visit the site in a destructive manner, Kevin's sexual curiosity is awakened when he sees a particular attractive teen.
Prora  – Dir. Stéphane Riethauser (Boys on Film 9)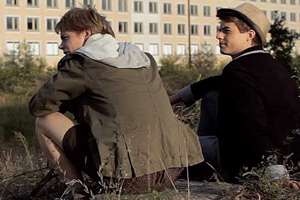 Prora is a good example of abandoned sites as a stimulant for sexual discovery in moments of excitement and danger. Two teenagers, Jan and Matthieu, embark on an adventure in the deserted former Nazi holiday camp and communist military complex in Germany. Whilst exploring their surroundings they put their friendship at risk. Running through the corridors in a destructive manner, smashing windows and playing rough. The two boys, high on adrenaline, end up confronting their feelings in a moment of sexual realization. The two teens end up making love across the scattered glass on the complex floors. Away from the world and positioned in an empty complex all to themselves, this triggering of emotional discovery is further heightened.
The Strange Ones – Dir. Christopher Radcliff & Lauren Wolkstein (Boys on Film 7)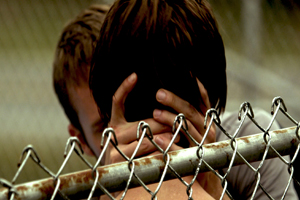 An unknown destination, a man and a boy travel in search for the unknown. Finding respite in what seems to be an abandoned motel swimming pool, the two travelers are confronted by the motel owner where truth and lies become one blurring situation. On the surface all seems normal, but as the owner asks more questions, nothing is what it seems to be.
Bramadero – Dir. Julián Hernández (Boys on Film 2)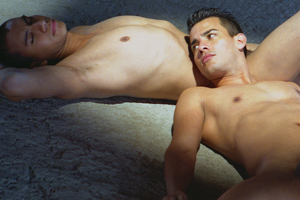 Bramadero: A place where deer and other wild animals in heat prefer to go.
Our final short explores our animalistic nature. Hassen and Jonás find a spot on the outskirts of Mexico City where they seduce one another in a merging of body and mind. The construction site holds as a playground for desire: the positioning of a mattress in the middle of the floor becomes an immediate invitation for sexual discovery. The industrial steel scaffolding acts as barriers between the two men, yet as they move in between the structures a divergence between their raw naked bodies and the man-made barriers is constructed. The uncertainty of the dangers of abandoned construction sites ultimately lead to death, as Bramadero is described as a pole animals are tied to in order to tame them or kill them.
by Serden Salih