THE TREATMENT has terrified and enticed UK film critics
Hans Herbots' terrifying and controversial feature THE TREATMENT, based on the bestselling novel by UK crime writer Mo Hayder, is screening at cinemas across the UK this weekend. Only at selected venues that are brave to show it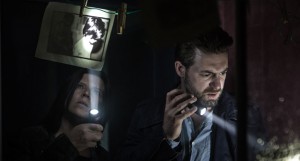 Now that it's been unleashed on the UK film critics, I don't think they have seen anything like it for a while. Take a look below at what just a handful of the press are saying on the film:
"THE TREATMENT brought me close to a panicked run for the cinema door on a number of occasions, but I held steady… Clever editing and atmospheric cinematography makes a tense and powerful drama."
– Kate Muir, The Times
"It will certainly find its audience among fans of Nordic noir classics such as THE KILLING and French drama THE SPIRAL… [THE TREATMENT] crawls under your skin and remains there long after."
– The Sun
"Harrowing but brilliant… Taut, tense and at times very close to being too disturbing to watch, THE TREATMENT is a fine adaptation by Belgian director Hans Herbots of a novel by British crime-writer Mo Hayder…. Just be aware you might not be able to stop thinking about it for some time afterwards."
– The Daily Mail
"Claustrophobic and disquieting, put over with gruesome conviction… Gripping and brutal Belgium Noir"
– Peter Bradshaw, The Guardian
THE TREATMENT is unlikely anything we've released before, but you HAVE to see this film. It's an unforgettable emotional juggernaut, by turns terrifying and totally compelling, and though it's shocked critics, cinemas and audiences up and down the country, we're proud to be bringing THE TREATMENT to the UK – dare you see it?