Why you should see EASTERN BOYS
At Peccadillo we have literally hundreds of films recommended to us every year and there just isn't enough time to see them all. EASTERN BOYS was recommended by a sales company that we regularly work with, was premiering at the prestigious Venice Film Festival and the previous work from director Robin Campillo indicated he was definitely someone to watch, but the title of the film and the subject of Eastern European rent boys made it all sound so… 90's.
It would have been very easy to skip the 9am market screening, but we're glad we didn't, because the film was definitely one of the best of the year and in Venice it picked up the Horizon Award for Best film – but that was after we had acquired it.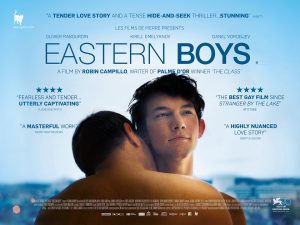 EASTERN BOYS opens with what can be described as a classic cruising scene. Daniel spots Marek hanging out with friends at the Gare du Nord station in Paris and virtually stalks him until he gets him alone, agrees a price and arranges for the young man to come to his apartment the next day.
When Daniel opens his door it's to a young boy called Marek, the trap is sprung and then "that scene" happens. It's the scene that everyone who has seen the film talks about, a celluloid moment that is impossible to erase and is certain will go down in film history as one of the most memorable moments in film – ever.
EASTERN BOYS is both an edge of your seat thriller and an intimate exploration of the evolution and meaning of love, it seamlessly moves between one genre and the other toward an unexpected but ultimately very satisfying ending. The film is one hell of a journey and one that Peccadillo is very proud to bring to you.
So please seek out those few cinemas brave enough to show something different to mainstream holiday fare (there are fewer of them every year) and settle back and enjoy an utterly brilliant cinematic experience.
Director Robin Campillo will be in London to present the film On Friday at The Curzon Soho and on Saturday at The Hackney Picturehouse, click below for details of these and other screenings around the UK
For more and to book tickets: http://bit.ly/EasternBoysCinema