Feburary's Must See: Stranger By the Lake
Peccadillo Pictures are thrilled to be behind the critically acclaimed and widely admired gay cinema sensation of 2014; Alain Guiraudie's intoxicating blend of bold homosexual erotica and compelling psychological thriller, Stranger By The Lake (L'inconnu Du Lac).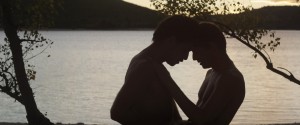 Stranger By The Lake has been praised in countless publications and chosen as a highlight of many must-see lists of the year – Time Out and French film journal Cahier du Cinema, Little White Lies, to name but a few – and it was awarded a five star rating by Empire. It was screened in the Un Certain Regard section at this year's Cannes Film Festival, where it went on to win the award for Best Director, and the Queer Palm award. It also currently holds an 100% score on go-to film rater Rotten Tomatoes. Guiraudie – one of France's most accomplished auteurs- is now on his tenth feature and finally earning his place in the art-house limelight. So what, you may ask, is this fuss about? The reasons are multiple.
There's the atmospheric setting; a picturesque, serene lake in France during a balmy summer, which also happens to be a cruising spot for gay men. A setting that is at once erotically exposed and secretive. When the film gives way to mystery and suspense, the sense of place transforms from a place of natural, pastoral beauty to something more eery and sinister. Of the cruisers, the film focuses on Franck (Pierre Deladonchamps), a highly sought after cruiser in the spot. After several mindless encounters, Frank swims past Michel (Christophe Paou) and rapidly falls into love – or lust – with him, despite warnings from middle-aged Henri, a fat and disillusioned loner he has befriended by the lake. After seeing Michael commit a terrible act of violence, Franck's unflinching passion threatens to disrupt his moral integrity.
There's also how celebratory it all is of homosexuality and the male form. It would be a trying effort to find a more sexually explicit art-house film than this, (yes, even Blue Is The Warmest Colour) and a franker portrayal of gay sex so utterly devoid of any inhibition or apology. Likewise, the voyeuristic quality of the sex scenes, plus the treatment of the suspense, expertly echoes Hitchcock; a similarity many viewers are enjoying. The film also moves effortlessly from a sensual art-house film into a murder thriller. Not to mention, there is somehow humour in there too, in the form of an overweight and overtly optimistic cruiser named Eric, always hopefully trying it on with his superior looking fellow naturists. The comedy somehow blends in expertly well, in a film which you wouldn't expect it to at all; leading this film to become a wonderful and unique hybrid of comedy, romance, erotica and murder thriller.
We could go on, but it would be wiser to believe the hype and experience this absorbing sexual thriller for yourself, in cinemas from 21st February.