Don't you want me baby? Soap's best gay and lesbian couples.
Soft Lad brings together two of soapland's primetime gay characters, EastEnders' charmer Jonny Labey and Corrie's conflicted vicar Daniel Brocklebank. With a hot new boyfriend and having just been accepted into the dance school of his dreams, David's life is going pretty great. However, when his sister invites the couple over for dinner, David's brother in law, Jules (Brocklebank), has a secret that could shatter this illusion. To commemorate the theatrical release of Soft Lad on October 1st we thought we'd take a look at our standout gay and lesbian soap couples.
From Brookside to Emmerdale, to EastEnders and Coronation Street, has your favourite made an appearance below? Let us know on our Twitter and Facebook.
John Paul McQueen and Craig Dean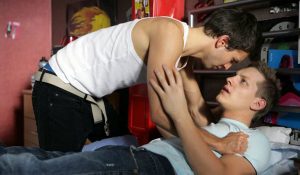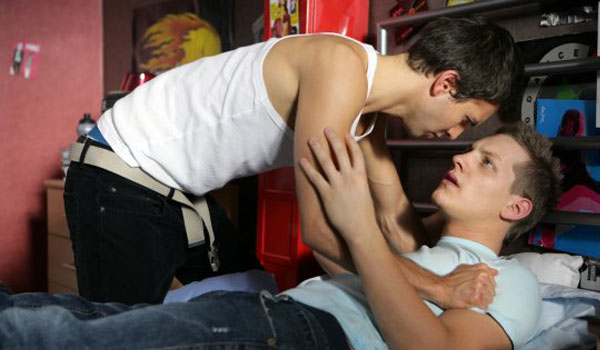 Probably the most shipped and well-known couple on the list, John Paul and Craig's love was based on a foundation of unrequited feelings, longing looks and secrecy, i.e. the best kind. When Craig arrived in Chester, the pair quickly became best friends, with Jean Paul, having already come to the realisation that he was gay, soon developing feelings for his new companion. After drunkenly kissing Jean Paul at the school dance, Craig set the wheels in motion for what would be a turbulent, yet steamy, relationship, filled with buckets of denial and jealousy.
Sophie Webster and Sian Powers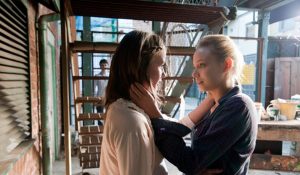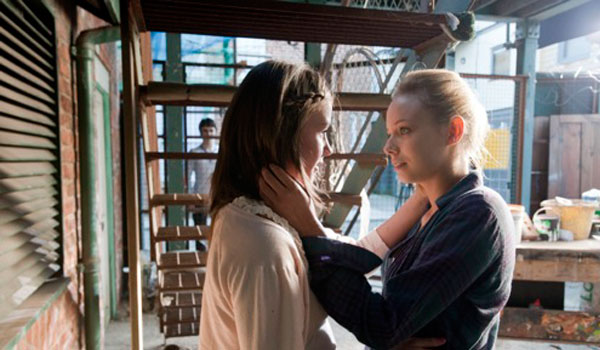 Like all great LGBT relationships that came in soaps before, Sophie and Sian started out as school friends but soon came to be more. Joining the church choir to see more of one another, the pair really did go through their fair share of drama, from a wild night at a lesbian bar with 'friend' Amber, pre-watershed kissing, near death experiences (remember when Sophie fell off that roof – yeah, that happened), countless cheating accusations and a runaway bride, we welcomed the drama of it all. Since the disaster of her wedding to Sian, we're holding our breaths for Sophie and her new beau Maddie.
Christian Clarke and Syed Masood
Within soap land, EastEnders has had one of the largest gay casts. Some may argue that Colin and Barry, the original 'Enders gay couple, is the definitive relationship, being one of the pioneers in representing gay issues on primetime TV. However, this is the 21st century and with it new relationships that brought to light new struggles that the LGBT community are experiencing today. No other couple has had as much of an impact in recent years as the gripping, engaging and, at times, infuriating love story of Syed and Christian. The undeniable attraction between the two, seen in their heated conversations and longing glances from the start, had us jumping for joy when they finally (F-I-N-A-L-L-Y) kissed. As we watched Syed come to terms with his sexuality and what it meant for him as a Muslim, our love and compassion, like Christian's, grew and grew, making them one of our favourite couples on the show. Having left Albert Square back in 2012, we're expecting to see their faces back in the Queen Vic soon; it is a soap opera after all!
Ali Spencer and Ruby Haswell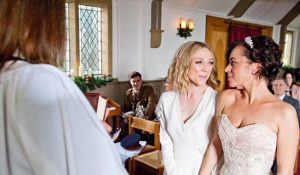 Looking back on Ali and Ruby's relationship, the one thing that stands out is how normal they seemed, not that they were two women but how relatable a couple they were, considering the fates handed to other soap couples. Having had two kids, Ali was surprised to fall in love with Ruby but not afraid. Ruby took on two children and an ex-husband but didn't seem to be over-whelmed by it all. Granted they had their ups and downs, Ali's pregnancy scare after a one-night stand, Ruby's infertility and financial troubles, but they always came back together. The couple moved away earlier this year to support Ali's son Sean recover from an accident in Liverpool, but Ruby returned soon after to support her family financially. The biggest shocker of the year came when Ruby was injured in the helicopter crash during Pete Barton and Debbie Dingle's wedding and later died. With Ali's return to Emmerdale, it'll be intriguing, and no doubt heart-breaking, to see how this devastating loss will affect her.
Special Mention: Ben Mitchell and Paul Coker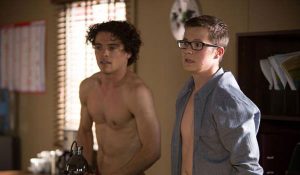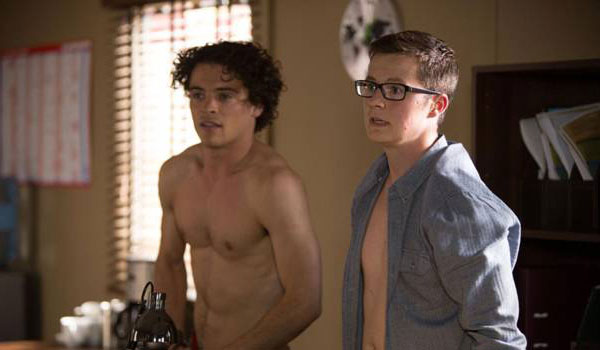 We're excited to see where this couple will go, having already caused a hurricane of drama with their secret affair, and that's not to mention that funeral parlour scene. This isn't Ben first secret relationship, having struggled with accepting his sexuality over the past two years. But tensions will come to a head next week when resident tough-man Phil Mitchell catches Ben and Paul in the act. What will Ben do? How will his father react? Where do Ben and Paul go from here? We can't wait to find out.
Soft Lad is currently playing around the country as part of our POUTFest tour. You can see your nearest screening and book tickets here.