50 Years What to Watch.  It's proving to be a Summer of Love for the LGBTQ+ community. Not just with this being pride season across the country, but also this being a significant year for LGBT history being the 50th anniversary of the Sexual Offences Act established in 1967, which legalised sex between two consenting men above the age of 21 in England and Wales.
Queer lives have been reflected on our screens over the decades in both positive and not-so-positive lights. This anniversary is the perfect opportunity to watch  the groundbreaking films and TV shows that presented queer lives in all their glory over the past 50 years and beyond. BBC and Channel 4 have also commissioned a range of fascinating documentaries and drama series centred around the 50 year anniversary. Keep reading for a run down of what's on this summer and 50 years what to watch suggestions;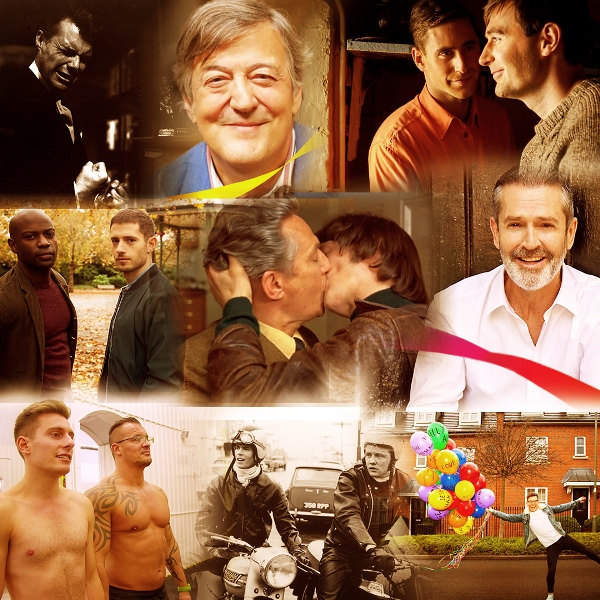 The BFI is screening a series of classic films, TV and archive material throughout July and August that address the more problematic on-screen relationships with queer portrayal on British film and TV. This includes The Leather Boys, Sunday Bloody Sunday and Edward II.
Picturehouse Cinemas: Criminal Acts A Charged Past
Launching with The Naked Civil Servant, Picturehouse have programmed a season of landmark British film including Andrew Haigh's Weekend on 18 July. Since Peccadillo released it in 2011, it has become a modern classic, winning many awards and international critical acclaim, as well as launching Andrew's meteoric career along with his two leading men, Tom Cullen and Chris New.
At the forefront of LGBT programming in the 80s and 90s, Channel Four has a series of documentaries available on All4 that look at the social and cultural changes of the past 50 years including Rupert Everett presented 50 Shades of Gay.
BBC ONE: Man in an Orange Shirt – Broadcasting soon
A two-part drama about two gay love stories from across generations written by best-selling novelist Patrick Gale and directed by Michael Andrews. It Stars Julian Morris, David Gyasi, Tommy Bastow, alongside Vanessa Redgrave and Frances De La Tour.
Accompanying this are a documentary on Patrick, What Gay Did For Art which looks at the contribution of LGBT people to British culture and Is It Safe To Be Gay in UK?  a hard hitting investigation into the alarming rise in homophobic attacks.
BBC TWO: Against the Law – 26 July
Against The Law,starring Daniel Mays, Charlie Creed-Miles and Mark Gatiss, tells the true story of Peter Wildeblood's affair with a handsome serviceman that led to him being jailed during the 1950s. The drama is interwoven with real-life testimonies from men who lived through those pre-1967 years, experiencing jail and even subjected to aversion therapy.
Presenter Riyadh Kalif, delves into issues that still face the LGBTQ+ such as faith, body image, homelessness, porn and racism in thisbreezy BBC Three series. Available on iPlayer.
There's plenty to entertain, stimulate and provoke your viewing pleasures this summer, far more than we could fit on this list of 50 years what to watch, so if you have anything else you think we should include get in touch on Facebook or Twitter