I GOT LIFE! writer/director Blandine Lenoir talks film-making, female solidarity and real women: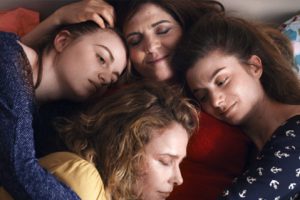 Tell us how this film came to be?
As it often happens, the subject arose from personal experience. I was extremely anxious about turning forty, and didn't understand why I was so afraid to grow old whilst my male friends didn't share this concern at all. I quickly realized that women in their fifties weren't represented in cinema, how can you possibly feel like reaching an age that tends to be invisible? I saw many women around me ending up in a terrible loveless solitude; incredible, beautiful and talented women whose exes had been able to make new lives for themselves. I wanted to pay homage to these women, give them – and myself – the desire to grow old. Aurora also a way of healing my own anxieties.
The heroine Aurore accumulates difficulties: she lives alone, is in a precarious financial situation and is going through the menopause…
But she also takes her life in her own hands. She is a strong character who, when confronted with discrimination, discovers solidarity with the women around her, which makes her realise that anything is still possible. As always, I wanted to tell this story with humour, trying to laugh about things that aren't really funny – there's so much there to say.
From the very first frames you tackle menopause head on, it stars with Aurore having a conversation with Lucy, her youngest daughter.
I like tackling taboo subjects. The bond between generations, which I already broached in Zouzou, my first feature film, is very important to me. It's important to remember the way our mothers and grandmothers were raised. Many things have changed, of course, women vote, work, use contraception, but the same glaring inequalities still prevail today, and there is even a sense of backlash in certain instances.
Aurore is really in a period of personal deconstruction/reconstruction. She loves without knowing if it's requited, her youngest daughter leaves home…
The period she's going through reminds me of a sort of counterpart to adolescence. She discovers a newfound freedom to which she isn't accustomed and which manifests itself at first as a feeling of loss. Movies often show parents relieved to see their adult children finally leave home, but what I see around me is much more often friends who are upset over their children leaving home. Before feeling once again that they have time for themselves and new things to pursue, these women have to face a very deli- cate transition.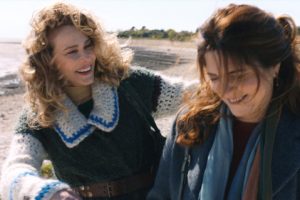 Aurore is also given a very rough time professionally: there's that new boss who has chosen a nickname for her against her will, how can you show humiliation at work in just a few scenes?
Stripping someone of their identity seemed to me the worst thing you could force someone to be subjected to. If you have even the slightest bit of dignity or self-esteem, it's unbearable. Workplace suffering is a terrible reality, but Aurore is a fighter, she is never a victim.
Skits that are very powerful, for example when Aurore is a 'cleaning operative,' and has a conversation with a colleague who brings up discrimination.
It wasn't an easy part of the script to perform. For this scene to exist, the character had to immediately be whole and present. I called upon a non-professional actor– a Tunisian beautician who had told me once that she dreamed of being in a film. She's a very sharp woman with a strong accent. I knew that she could easily embody the character and deliver this text.
We can sense an unbelievable solidarity between all the women in the film.
I have great faith in feminine solidarity: A solidarity that carries me throughout all of life's stages without fail. In my mind it was of the utmost importance that every age be represented in the film.
When referring to stages of life, you integrate excerpts from an interview with the feminist anthropologist and ethnologist Françoise Hériter who explains that not too long ago, when a woman was going through the menopause, her life was considered over.
Just as I had quoted Christine Delphy [French feminist and sociologist] in Zouzou, I absolutely wanted to pay homage to Françoise Héritier in Aurora. This was made possible thanks to footage that Patric Jean agreed to give me, excerpts from his DVD, conversations with Françoise Héritier. Like Thérèse Clerc, Maya Surduts, and Benoîte Groult, all recently deceased, these women belong to a generation which contributed enormously to the advancement of political thought and feminism.
Did you immediately have Agnès Jaoui in mind for the role of Aurore?

I wanted an actress whose face had been familiar to the public for a long time and I also wanted and actress who was comfortable with her age and enjoyed all the advantages that it implies. Whilst being more mature, Agnès is extremely feminine and attractive. It was important for my heroine not to resemble an eternal adolescent. Agnès immediately took a liking to the Aurore character – she agreed within two days.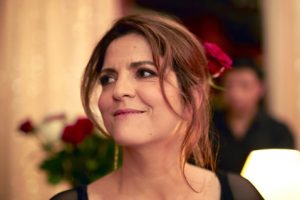 I GOT LIFE! is in cinemas from 23rd March. Find out more and get your tickets here.