One week on and we're still feeling the amazing vibes from last Friday, a night to remember with Tom of Finland. If you were there, lucky you, if you weren't; sit down, feet up, pour yourself a drink and we'll tell you a story….
Once upon a time (also known as the 30th June) there was an event called the East End Film Festival (EEFF). People came from across the capital, with dirty smiles on their faces and dressed in their finest LEATHER! This could only mean one thing, it was the UK premiere of TOM OF FINLAND THE MOVIE.
We knew early in the week tickets had sold out so to say we were excited was an understatement. All glammed up and raring to go, Peccadillo HQ headed up the road to the Hackney Picturehouse.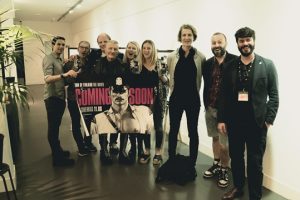 The night began with our dear friends Spirit Cartel serving up some amazing cocktails made with their delicious Tom of Finland Organic Vodka. Once the glasses were dry it was time to head into screen one (the biggest screen we'll have you know) and get settled but not before an inspiring introduction from the film's director Dome Karukoski.
As the lights went down the audience were treated to two hours of fantastic cinema and the fun didn't stop there, as the credits went up Alex Karotsch from Fringe Film Fest was joined by Dome for a Q&A but we had one big surprise up our sleeve! After two questions Dome was joined on stage by no other than Durk Dehner, co-founder of The Tom of Finland Foundation. Fresh off a flight from LA, Durk dressed in full leather was greeted by a roar of cheers from the London crowd. He went on to talk about Tom as his friend, the history and future of the foundation and the collaborative process between him and Dome to bring this iconic story to the big screen. It really was such a treat to have both of them there, something which we'll cherish for a long long time.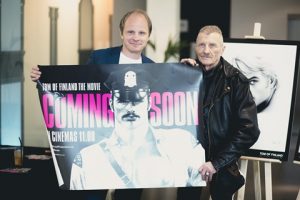 We finished the Q&A with a few questions from the audience but then there was no time to waste, an after party at THE GLORY was calling our name and boy did they do us proud. This was a party to remember, we even had leather Go-Go dancers which certainly got the crowd hot under the dog collar.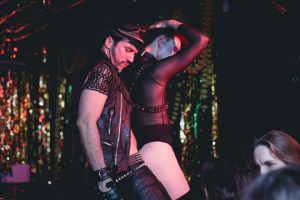 The bash was a real celebration of freedom, pride and love. We even got slightly watery eyed when some party goers shook Dome & Durk's hands to thank them for making this film and described how much Tom and his work means to them.
As the night came to a close, there was only really one last thing to do…give out the prizes for best dressed. The competition was fierce but there can only be one winner however, big shout out to all of you who got your gear on and did Tom proud.
If you missed all that we can only imagine your devastation but we have some good news, TOM OF FINLAND THE MOVIE is out in cinemas on 11th August UK wide so make sure you visit www.tomoffinlandthemovie.co.uk to find a venue near you.