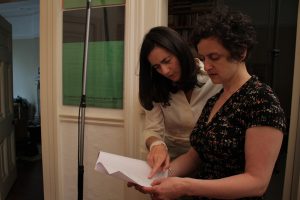 What happens when a lesbian wants to be a man and then meets a man who makes her change her mind?
The Book of Gabrielle is a comedy about a woman who is writing a graphic book about sex. She meets Saul, an older novelist who also writes about sex and the writing of whom she absorbed since she was a child. He gets off on her being a lesbian, she wants to explore her inner man through him. Would they unblock each other or get in each other's way?
All my three features are self-portraits but not autobiography. They're drawings of who I am, not realistic photographs. So with this film I know I have a man within me. I also know that man has ways about him that I would detest in a real man. That's the nub of the film in a way, exploring our inner men, even if they're outrageous.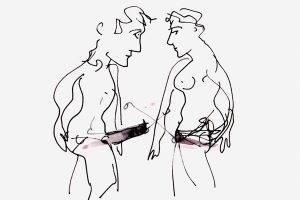 The Book of Gabrielle is a lot about sex but with hardly any sex scenes. I am in a quandary about sex scenes. I'm not sure I like them but that makes me want to explore them. It's such a sensitive, intimate thing to portray and it's been done so terribly often by ridiculous men whose imagery I have to wash out from my head so I don't take it to bed with me.
Alongside asking myself, who is my inner man, when I made this film, I was thinking about what a cinema is and also what watching a film is. Making a film is finite. You come to the final edit and you have to let it go. There's something satisfying in that too. You can move on. But what if the film is made not in such a strict three-act-structure, narrative way? What if, like The Book of Gabrielle feature film, it's a film that asks questions too, doesn't tell you what to think.
I have a brain, a mind, a lifestyle even, that is hybrid and fluid. For most of my life so far, I've been told this isn't right. You have to choose…but no, I think we are all more than just one path. We have our other lives that we sometimes dream of, yearn for, and I wanted to make a project that allowed me to do that. I draw, I perform, I make film. So I wanted a project that would let the ideas come and come out from various platforms.
I think the feature film is the kind of heavy rock at the centre of the piece. It's a luscious grand thing. I can't change it. The only people that can change it now are the audience who come to it and read their own lives and ideas into it.