Description
Raised as a prince under a conservative Lutheran court, Queen Kristina grows up with ideas for modernising Sweden and bringing an end to war. Kristina begins to rule at the age of 18 and is quickly faced with choosing between her country, a new male suitor, her people and her religion. She caused a scandal when she chose not to marry and anointed Countess Ebba Sparre, as her Bed Companion. Fighting for her country she chooses to take control of her destiny and to find the freedom she desires.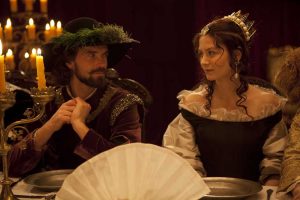 Working with the Director, Mika Kaurismäki
Finland-born, Brazil-based Kaurismäki, burst onto the international art house scene with his debut feature THE LIAR in 1980 which was a huge hit in Finland.  Since then he has made over 30 features and feature documentaries, criss-crossing genres, languages and continents. They include ZOMBIE AND THE GHOST TRAIN, AMAZON and ROAD NORTH.  His filmmaking collaborators, as well as his cast and crew were all eager to work with Kaurismäki and he didn't disappoint.  They offer some intriguing insights into his directorial style.
"Mika is a very silent man, he doesn't talk much," says Bouchard. "He reacts with extremes. He either very much agrees or totally disagrees. At the beginning our relationship was all about analysing the silences until I finally figured out Mika is a practical man who needs material. From that moment on our relationship became very dynamic."
Bouchard notes a theme running through Kaurismäki's work.  "I watched all of his films, including his documentaries, and discovered a fundamental love for human beings and for actors. He always said, I want to remain very close to the characters and I want to film the actors very tightly. He has a way of filming actors, which is full of love, which is very important to me as I create characters. In our film, the characters talk a lot, they defend ideas, they speak in elaborate sentences. I was reassured that Mika would seek out this human aspect."
Malin Buska has long been a fan of Kaurismäki's work. "He is a quiet man but it is as if he is talking all the time as he has so much to say," she says of her director. "I like to be around him. I don't trust myself all the time and in a scene, I don't always know if I'm going in the right direction, I just follow my impulses and I am spontaneous on set. Sometimes I don't find it and I get frustrated. But Mika doesn't change anything. And then something comes and I find a way. It can be frustrating but it is very inspiring."
"Mika doesn't give a lot of directions," confirms François Arnaud." We talked a lot about the characters and the story beforehand and so on the set he creates this playground where we're all really free. He's there to bring us back on track if anything goes wrong. He trusts the chemistry between actors."
Gadon agrees: "Mika is not a man of many words, which I am cool with," she says. "What is really interesting about working with him is that I feel his documentary roots coming out a lot because he doesn't do a lot of takes, he just shoots. I've never seen anyone power through a day and power through a schedule like he does."
"Mika knows what he doesn't want which is the key virtue of a film director as far as I can tell!" says Patrick Bauchau.
For Kaurismäki, filmmaking is about compromise. "You have to find the best combination of compromises between acting, actors, the sets and photography," he suggests. "My job is to find the balance between all these elements because the machine goes so fast. You have to control it. You can't go inventing new things on set. You have to be prepared. There are 120 people, shooting every day for 40 days, 12 hours a day. The main challenge is to stay on schedule and keep the workflow going between all the different departments."
He succeeded in creating a happy, productive atmosphere on set. "Mika has a great sense of humour which is one of the most important qualities one can have in life," says Hippolyte Girardot, "He's very easy-going and quiet. He's not trying to direct you like a puppy. He relies on you very much, which I love."