POUTFest to play VUE cinemas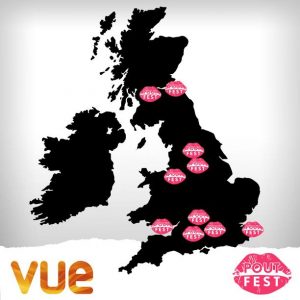 Our POUTFest cinema tour is going out with a bang. We've teamed up with one of the UK's biggest cinema chains – VUE cinemas,  to bring you all four POUTFest feature films, 52 TUESDAYS, A GIRL AT MY DOOR, SOFT LAD and DRESSED AS A GIRL, which will be playing at select VUE cinemas right across the country!
Not only that, but each POUTFest VUE screening comes with exclusive, VUE-only content, including special director interviews and introductions, as well as a specially programmed short film to complement the feature. So, if you never thought you'd see a mini LGBT-film festival happening at VUE Thanet well, we just proved you wrong!
Check out the VUE vs. POUTFest map above to find a venue near you, or head to www.poutfest.co.uk to find a screening and book tickets.
Also – one more thing! We couldn't let the VUE cinemas at Manchester Lowry, Leeds Kirkstall or in Cheshire Oaks play Northern gay drama SOFT LAD without a Q&A from the multi-talented, multi-loveable director Leon Lopez. Leon will be attendance at the 29th September screening of SOFT LAD at VUE Cheshire Oaks, the 30th September screening at VUE Manchester Lowry and the 1st October screening at VUE Leeds Kirkstall.
If you live locally, be sure to come out and support this local filmmaker and local film with gusto – there may even be some surprise special guests!
We'd like to thank VUE Cinemas for welcoming POUT into their screens – now it's time to show them there's a big audience out there for independent, LGBT cinema. We'll have one double popcorn and nacho cheese combo, please!
POUTFest will be playing at the following VUE Cinemas: Oxford, Islington, Leeds Kirkstall*, Piccadilly, Reading, Edinburgh Omni, Cheshire Oaks*, Cardiff, Finchley Road, Thanet, Hamilton and Manchester Lowry*.
*SOFT LAD screenings at these cinemas will include a live director Q&A.
52 TUESDAYS / SURPRISE – 10th September
A GIRL AT MY DOOR / A LAST FAREWELL – 20th September
SOFT LAD / BOYGAME – 29th September – 1st October (includes Q&A dates)
DRESSED AS A GIRL / MIRRORS – 4th October