Peccadillo at LLGFF 2014 (We're all FLARED UP)
It's a given that Peccadillo will have great films to watch out for at the BFI Flare (London LGBT Film Festival, formally LLGFF). Taking place between the Thursday 20th March and Sunday 30th March, and eagerly anticipated in the LGBT community, the festival will include a glorious eleven days of the best queer cinema from around the globe. Full details of the programme are available here: http://www.bfi.org.uk/flare
The 2013 edition of the LLGFF was extremely popular – more than 22,000 people witnessed over 130 programes of screenings and events, an increase of 1,000 on the 2012 festival. We were proud that a bunch of Peccadillo films were shown. Our Interior. Leather Bar – Travis Matthews' and James Franco's sex and arthouse tour de force, inspired by the '80s gay classic Cruising – had its premiere. Our heart-warming Margarita, a Canadian drama about an attractive young Mexican and lesbian nanny who faces dilemmas in love and life, held the closing gala spot. Additionally, on the documentary front, the revealing Les Invisibles gave older LGBT people the chance to tell their stories of prejudice and sexual exploration. There was also the award-winning Beyond The Walls – an intimate drama charting a one-night stand between two men that develops into something more – and I Do, an uplifting romantic drama about an English ex-pat living in New York who faces deportation, faced with some important choices to make in life and love.
But take a further look at what Peccadillo has in store for the Flare this year.
G.B.F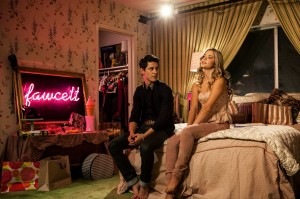 OFFICIAL SELECTION: Tribeca Film Festival 2013
Friday 21st March NFT 2 (16:00) | Friday 21st March NFT 1 (20:45)
Meet Tanner and Brent. They are two gay best friends.  Brent longs for the spotlight and believes that coming out will make him instantly popular as North Gateway High's very first G.B.F. (or Gay Best Friend). Tanner on the other hand, would rather fly under the radar and finish high school without ever being noticed.
When things don't go according to plan and Tanner is outed instead of Brent, the two boys go from B.F.Fs to instant frenemies. Enter the three most popular girls in school — queen-of-mean bombshell Fawcett, drama club diva Caprice, and sweet, Mormon good-girl 'Shley, who launch an all-out social war to win Tanner's friendship.
Featuring an all-star cast including Desperate Housewives' Andrea Bowen, Will & Grace's Megan Mullally, Orange Is The New Black's Natasha Lyonne and Harry Potter's Evanna Lynch.
From the director of cult 90s teen movie JAWBREAKER comes this comic satire of American high school clique culture in the vein of MEAN GIRLS and AMERICAN PIE.
G.B.F is available on Blu-ray.
Or alternatively on DVD
TEST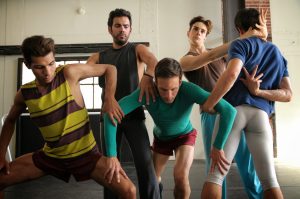 WINNER: Grand Jury Award for Outstanding Screenwriting & Grand Jury Award for Outstanding U.S. Dramatic Feature Film, Outfest 2013
Thursday 27th March NFT 1 (18:30)| Friday 28th March NFT 3 (16:00)
Frankie is the newest, skinniest and most mocked member of an up-and-coming modern dance company in San Francisco. The year is 1985.  As six muscular male dancers tumble their way through athletic choreography, the choreographer stops the music and yells at Frankie to "dance like a man!" On the sidelines, Todd watches. Todd is an established dancer in the same company and the bad boy to Frankie's innocent. They quickly become friends – opposites attract.
For Frankie, the city offers no relief from the bullying at work: a newspaper headline asks "Should Gays Be Quarantined?" while fresh graffiti screams "AIDS Faggot Die!" Frankie turns away and, with his bright yellow Walkman clipped to his belt, retreats into a music-filled trance.
When one of the male dancers is injured Frankie must perform in his place. It's the classic test of skill and character, and Todd helps Frankie prepare. Outside of work, as Frankie and Todd's friendship deepens, they each face a different kind of test: the newly-named disease is spreading fast and no one seems to know anything about it, except who it targets. Together the friends navigate a world full of risk that is also, now and then, full of hope.
Get the film on DVD: Amazon
REACHING FOR THE MOON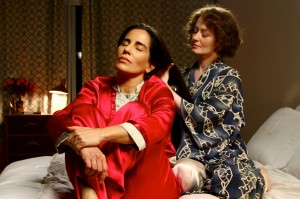 WINNER: Audience Award, Outfest 2013
Friday 28th March NFT 1 (21:00) | Saturday 29th March NFT 3 (11:20) | Sunday 30th March Studio (16:10)
Set at the height of 1950s glamour, this audience award winning drama recounts the extraordinary relationship between Pulitzer Prize-winning poet Elizabeth Bishop (played by Miranda Otto, Lord of the Rings) and Brazilian architect Lota de Macedo Soares (the beautifully handsome Gloria Pires). In search of inspiration, Bishop leaves America having accepted the invitation of an old college friend to stay with her on her sprawling country estate in Brazil. But she never counted on meeting the love of her life – her friend's partner.
At first, the fiery personalities of the two women collide and lead to passion-fuelled debates, but animosity quickly turns to attraction, then desire. From Oscar© nominated director Bruno Barreto, REACHING FOR THE MOON is an intimate portrait of two remarkable artists as they discover the most incredible love.
You buy REACHING FOR THE MOON on DVD
WHO'S AFRAID OF VAGINA WOLF?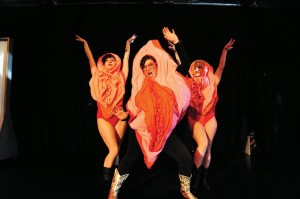 WINNER: Best Female Performance, Outfest 2013 & Best Feature Comedy, QFest 2013Saturday 29th March NFT 1 (21:00) | Sunday 30th March NFT 2 (13:50)The day after her 40th birthday, Anna comes to the conclusion that it's time for the madness to stop. She lives in her friend's garage; her career as a filmmaker isn't paying the bills and worst of all it's been ten years since she's had a girlfriend. A hardscrabble life that seemed charming and adventurous in her twenties seems desperate and dire in middle age. Most move on from such a lifestyle before they hit 40. But not Anna. That's why something has to change.Anna devises a plan to make all her dreams finally come true: make a film and win over her leading actress and art school wunderkind; Katia. Borrowing a storyline from her most beloved film 'Who's Afraid of Virginia Woolf?' she recruits her friend Penelope (Guinevere Turner) and Chloe (Carrie Preston) to start production of her feature film debut 'Who's Afraid of Vagina Wolf?'
As with all great feats, there were several obstacles standing in her way, first, there's no money. Second, she will have to give up her role opposite Katia if she wants the much-desired Penelope to even consider taking the roll. Third, her Cuban mother has never been thrilled about her making lesbian films, let alone, her being lesbian. She'd much prefer Anna pack up her shed and move home to Miami.