Our Top 10 Bestselling DVDs of 2016 & Interview with Tom
What a dramatic year 2016 was for films,  dramatic in other  ways too, but we're going to focus on the films. To get an industry insider's perspective we're bringing you an exclusive interview with our MD Tom Abell to get his take on a wonderful year of films and the changes affecting our industry.
But first; to celebrate a bumper year at Peccadillo Pictures we're taking you on a tour of our top 10 bestselling DVDs of the year. We searched the world to bring you the most thought-provoking, entertaining and captivating films possible. Whether they were hidden gems like GIRLS LOST or global behemoths like EMBRACE OF THE SERPENT, each DVD is etched with our passion, love and care. Enjoy.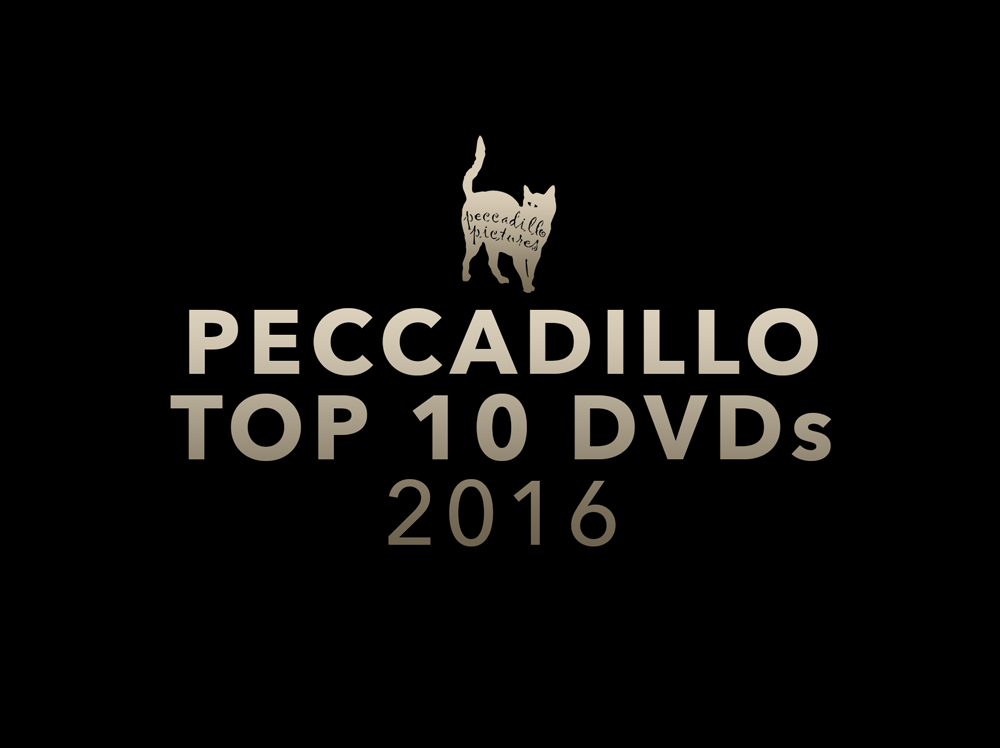 10 THEO & HUGO
The steamy French romance that was 'too sexy' for most cinemas, careened into tenth place despite being one of our last releases of the
year.
A beautiful 21st century "coming of age" tale complete with teenage angst, a thumping electronica score and an Isabella Rossellini-voiced Hamster.
Our captivating drama based on the scandalous life of Queen Kristina of Sweden, and her "royal bed-warmer" Countess Ebba Sparre.
07 CHEMSEX
A brave and unflinching journey into the hidden world of modern, urban gay life. Told through the eyes of 'slammers', survivors and the health workers fighting to protect them.
06 BOYS ON FILM 14: WORLDS COLLIDE
Once again the powerhouse that is Boys on Film has been a top seller this year, worlds collide in more ways than one in this stunning collection of award winning short films.
05 BOYS ON FILM 15: TIME & TIED
A sensation as always, the latest Boys on Film collection is our hottest to date. Between a time traveling closet, a 1976 trouser bar and a "zombie infested" sauna, it will have you re-examining your concept of time, age and the ties that bind us.
The powerful true life story of a forbidden high school romance that was to last a lifetime. Holding the Man will have your heart plunging and soaring. Australian gay cinema has never been so strong.
03 DEPARTURE
An intimate film about love, loss and moving on that charts the beginning of the end of a mother's marriage, the coming of age of her sexually confused son and an awakening that will make or break their new, unfamiliar family. Juliet Stevenson soars in this beautiful British drama set against the stunning backdrop of southern France.
A lonely 12-year-old girl unknowingly becomes friends with one of the world's most terrifying Nazi war criminals in this dark, intense thriller. Based on true events, THE GERMAN DOCTOR will have your skin crawling and heart pumping all the way up to it's dramatic, final minutes. This "Mesmerising and haunting" Argentinian film was a huge success across the board, particularly in stores.
Karamakate, a warrior shaman and last of his tribe, transcends the worlds of men and seeks truth through their dreams. Based on the diaries of Theodor Koch Grunberg and Richard Evans Schultes, the only known accounts of many Amazonian cultures, this extraordinary "Oscar nominated" film was destined for our top spot.
So, which ones have you seen? Which titles do you need to see? Get in touch with us on Facebook or Twitter and let us know!
We're immensely proud of our top 10, and the contribution Peccadillo Pictures has brought to the film world. Our Managing Director Tom Abell, he's been in the business a "long time" and knows it inside out. Tom's taken some time out of his very busy schedule to give us a quick interview about the past year at Peccadillo Pictures, the changing face of Film Distribution and our biggest hit of 2016.
Did you have any idea how successful EMBRACE OF THE SERPENT was going to be?
TOM: We thought it was going to be successful, we knew that it would do well but no, its actual success was far greater than we expected. It was a wonderful surprise that the audience in the UK and Ireland took to the film as passionately as we had.
You're passionate about finding new ways of getting films out there, what has been your most exciting distribution project?
TOM: Well, our most amazing campaign was for cinema release of EMBRACE OF THE SERPENT – most definitely. Every aspect of our promotion and marketing of the film worked perfectly in every single area. I can honestly say that in hindsight there isn't one single thing that we would change, and it's not often you can say that.
I think it's the best campaigns we've ever done and we won the Screen Award specifically for that campaign. Getting that recognition from the industry itself was one of the highlights of last year.
Are there any films that you think were unsung heroes of 2016?
TOM: GIRLS LOST. It's a very special film with lots of important social and sexual commentary, but at no point is it overbearing or preachy. Every country in the world has had problems marketing it, because it's difficult to define a single audience for it – do you target a gay audience, a lesbian or trans audience or do you market it as a Disney film with a dark side?
It took us a long time, but I do think we got the tone spot on. Unfortunately, it hasn't yet translated into sales, despite great acclaim from critics like Mark Kermode. It's a little gem that many people still have to discover.
Peccadillo Pictures will be seventeen years old this year, how has the industry changed in that time and what have been the most dramatic shifts?
TOM: It's changed enormously, the biggest change has been the move from 35mm to digital for projection in cinemas, and whilst it was supposed to make things more diverse it's done the opposite. It's made it much harder for smaller films to get into cinemas and now allows most of the cinemas to play the same films, which is not just pointless its tragic.
Obviously some screens do offer a more diverse selection of films and we applaud those cinemas who are still supporting non-Hollywood films.
How has VOD (Video On Demand) changed the way you distribute home entertainment?
TOM: While our VOD side is growing considerably year on year, it hasn't yet replaced the revenue we were getting from DVDs. While we're maybe not making as much money from it as we were in the good old days of DVD It is growing well and I'm quite confident that our success with VOD will continue to grow. For example we're one of a handful of film distribution companies who have their own own page on iTunes, we have our own Peccadillo Player which is powered by Vimeo and every quarter our VOD sales on Amazon are increasing considerably, so the VOD side is really moving upwards for us.
Thank you for taking the time to read our blog, you can also keep up with the incredible adventures of the winking black cat on our Facebook and Twitter pages. Check back regularly for exciting new updates, exclusive content and information on our upcoming films before anyone else.