A profile on cult FUTURO BEACH director KARIM AINOUZ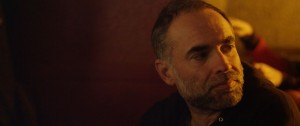 Ainouz's first feature debut, MADAME SATA, premiered in 2002 at the Cannes Film Festival Un Certain Regard and has won over 40 prizes in national and international film festivals.
His following films, LOVE FOR SALE and I TRAVEL BECAUSE I HAVE TO I COME BACK BECAUSE I LOVE YOU (co-directed by Marcelo Gomes) premiered at the Venice Film Festival, Orizzonti, in 2006 and 2009. LOVE FOR SALE won the Grande Coral – First Prize at the Havana Film Festival among another 50 awards, and I TRAVEL won the Grand Prix Coup de Coeur of the 22nd Rencontres Cinemas D'Amerique Latine of Toulouse, France, amongst 20 other prizes.
Between 2006 and 2008 he directed the HBO TV series Alice, which played in all of Latin America and the US and in 2010 he directed one of the fragments of the collective film Desassossego, which premiered at the International Film Festival of Rotterdam. His feature, The Silver Cliff, premiered at the Quinzaine des Realisateurs at the Cannes Film Festival and won Best Director at Rio de Janeiro International Film Festival.
In 2011 Ainouz directed a short for the 2011 Destricted Collection Brazil and was invited to direct a commissioned film for the Sarjah Biennial 10. He also collaborated with Olafur Eliasson creating the video installations YOUR EMPATHIC CITY for Videobrasil Festival.
Recently he shot, in Germany and Brazil, his next feature, FUTURO BEACH. He also took part in the project Cathedrals of Culture, a documentary TV series in 3D and 2D that explores how six significant and very different buildings reflect our culture. The project has Wim Wenders as executive producer and features Ainouz as one of the directors. Ainouz was invited as jury to the Cannes Film Festival for the Cinefondation and Short Film Competition in 2012 and to the Heiner-Carow Award at Berlinale in 2013. He was also a jury member at the Abu Dhabi Film Festival and Tokyo Short Shorts Film Festival among others.
As invited lecturer Ainouz has been to Princeton University – Princeton, Brikbeck College – London, MIT – Bostopn, EICTV – Cuba and SFAI – San Francisco.
From 1989 to 1992, he worked as assistant director to Todd Haynes and assistant editor to several feature films. In 1992, Ainouz began to devote himself to his own film projects and directed several shorts and documentaries including SEAMS aand PAIXAO NACIONAL. His work as visual artist has been shown at The Whitney Museum of American Art, Sao Paoulo Biennial and Temporare Kunsthalle Berlin. He was part of the Cannes Residency, Cinefondation, and a resident artist of the Banff Centre for the Arts in Canada and of the DAAD – German Academic Exchange Service. He is co-writer of the films BEHIND THE SUN by Walter Salles, CINEMA, ASPIRINS AND VULTURES by Marcelo Gomes and LOWER CITY by Sergio Machado.
Karim holds a degree in Architecture from the University of Brasilia and in Cinema Studies from New York University. After his Master's he enrolled in the Program of Independent Studies of the Whitney Museum of American Art.