Philip J Connell
Philip J. Connell is a producer and director, known for Survival Guide (2014), Kissing Drew (2013) and Chest of Doors (2005).
Phil has been working in film since 2001 through his production companies, Toolkit Productions and Alistair James Films. Kissing Drew has enjoyed a good festival run around the globe with screenings including Sedona International Film Festival and BFI Flare. Phil is currently in development on his feature length project, a suspense family drama called Portrait of a Darling.
In addition, Phil is building a career as a commercial director most recently completing a piece on sustainable city building for Evergreen City Works. Other works include music video collaborations and spec commercial pieces. His first film CHEST OF DOORS played at the New York Indy Film and Video fest and the DamShort Film Fest in Colorado in 2005. His first spec spot for BLUNDSTONE BOOTS won 2nd place in a contest to become Blundstone's official TV spot. Phil is also a credited theatre producer, a former digital media executive, former management consultant and former gay tourism entrepreneur.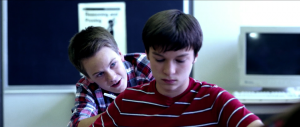 Director's Statement:
It started with a story about the strange, but not unusual phenomenon of lusting after someone who treats you like sh#*t. Then, it became a more complicated story about sexual bullying, or how bullying and sexuality intersect. And suddenly, in the end, it became about choosing dignity over truth. I struggled and continue to struggle against these forces.
For me, KISSING DREW is about the loneliness of adolescence, the rollercoaster of an average school day, and the tumult of sexual confusion and early sexual experiences.
Enjoy!
– Philip J. Connell