The Boys Are Back In Town!
All the boys came out to play last night at the launch of BOYS ON FILM: TIME & TIED at Picturehouse Central.
With London finally bringing us a scorching week of sun, many bums still filled up the seats at a SOLD OUT show for the new collection of gay British short films. Patrick Cash, our host for the evening, introduced each of the filmmakers onto the stage. To start off the introduction, Leon Lopez (star of G O'CLOCK, who stepped in for director Mitchell Marion) discussed the chemsex scene and how the director wanted the film to start a conversation within the community. Charlie Parham spoke about the gentrification of Soho and the London scene in NIGHTSTAND.
Following Charlie, directors Brian Fairbairn and Karl Eccleston explored the use of Polari in a way that hadn't been used before in their comedy PUTTING ON THE DISH. Tom Frederic discusses SAUNA THE DEAD and the zombie as a metaphor for the ways in which we are unable to empathize with the other on an emotional level, caring more for the physical and the sauna being one of the best places to explore this. Producer David McGillivray made a conclusion on the controversial short, TROUSER BAR, and the labour of love that went into making the film and the struggles he faced a long the way. The night was almost complete but unfortunately director Lloyd Eyre-Morgan of CLOSETS could not attend.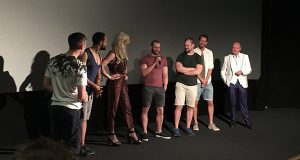 The audience then tuned into a surprise performance from the UK's hottest girl band, DENIM. In which Charlie Parham (Aphrodite) and Amrou Al-Kadhi (Glamrou) star/writer of NIGHTSTAND, took to the stage with two other DENIM girls (Chrystal and Shirley) and performed a short medley of hits. Be sure to check out their full 2 hour set in upcoming shows across the UK.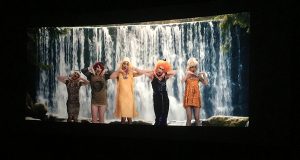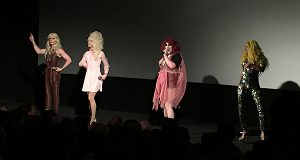 After an hour and forty mins of wigs, heels and a magical journey through time, the audience joined the Peccadillo team and the filmmakers for the afterparty sponsored by the lovely Barefoot Wine. It was great to see all of the audience come back for a drink and discuss the shorts amongst each other. We at Peccadillo want to thank you all for the continuous love and support for the BOYS ON FILM collection and allowing it to grow over the years, BOYS ON FILM 15: TIME & TIED being our biggest release yet. The shorts are touring as part of the POUTfest LGBT Film Tour this summer across the UK, and will be released on DVD and for the first time on Itunes worldwide across all English speaking territories on Sept 12